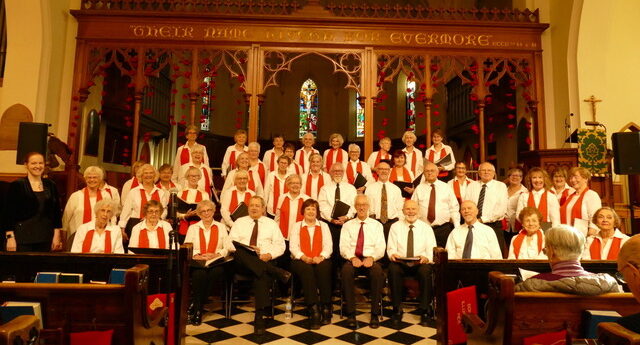 Update – September 1, 2022
We are delighted and excited to announce that rehearsals will start again on Monday, September 12th, 2022 from 1:00 – 2.30pm in the Marilyn Perkins Memorial Hall at Scarboro United Church.
The fee for 2022 – 2023 will be $200.00 which singers may pay in full in September, or $100.00 in September and $100.00 in January.  Please make cheques payable to Westside Singers  and give them to Heide Blakely, our Treasurer.  You can also pay with cash.
Masks are not required, but if there is any concern we encourage their use. Also, there is no requirement for proof of full Covid vaccination; however, the choir would appreciate that this is up to date.
As an added bonus, now that Covid protocols have been relaxed, we are able to reinstate our tea and cookies social time after rehearsals….Yay!
I do hope that everyone who sang with us last season, and also those who felt it was too early to get together in the past, will add to our merry band of musicians this season.  Hopefully we will even be sharing our gifts with some performances!
For those who need help getting to and from the church, we will try to arrange rides with willing drivers where possible.
Please click here to send Anne an email if you intend to return to Westside Singers or would like to join as a new member for the Fall 2022 season so we can arrange for the appropriate amount of music and chairs, plus tea and cookies.  
On behalf of the choir executive I would like to say that we are super EXCITED to see you all again and get back to singing!
Best wishes, Richard Thom President, Westside Singers
---
---
Come sing with us!
The Westside Singers of Calgary is a non-auditioned, four-part, 50+ choir formed in 1987 by Marilyn Perkins. Now with about 50 members, the choir loves to sing and socialize together.
Visit our Frequently Asked Questions page for more information about the choir and how you can participate!